Wilson Family Law Mediation Services
Providing Mediation in Brevard County, Florida - Including: Melbourne, Melbourne Beach, Satellite Beach, Indian Harbour Beach and Rockledge areas.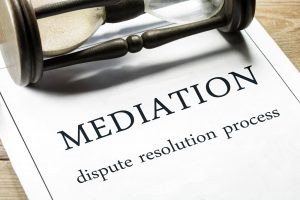 Mediation
Mediation is an informal brainstorming and problem-solving process that parties can engage in either with or without attorneys, aided by the mediator, who is a neutral facilitator, skilled in conflict resolution. Mediation is Voluntary, and can be stopped at any time.  It is also Confidential – All mediation communications are confidential except where disclosure is required or permitted by law. Parties in mediation may be in the same room if they wish, or can meet separately in private Caucus, while the mediator acts as a go-between. The mediator helps the parties discuss all of the issues that must be addressed. Where the parties reach agreements, the mediator helps write it into a Settlement Agreement for the parties to sign. If the parties reach no agreement, then they continue on the path of traditional litigation.  For a partial agreement, the Judge resolves the remaining issues.  For a complete agreement no trial is necessary, and the legal action can be resolved very quickly. Mediation is very successful in Brevard County – 70% of family law matters in Brevard reach an agreement at mediation, which can save valuable time, money, and emotional energy. Mediation is an opportunity to choose a sure and certain outcome that you know you can live with, rather than risk a Court outcome that you feel that you cannot live with. Learn more about Mediation.
Mediation FAQs
How is Mediation different from going to Court?
Mediation is very different from going to court.  At mediation there is no judge or jury.  No one is trying to cross-examine you or trick you into saying the wrong thing.  It is an informal brainstorming and problem solving conversation to address your legal problems with the assistance of a professional facilitator.
Can we Mediate before starting a divorce with the Court?
Absolutely. For many people pre-suit mediation is a faster less expensive way to resolve your legal issues. After you reach an agreement, you can finalize the divorce by filing the required documents and attending the Final Hearing.
Can you help us with the paperwork?
Of course, it would be our pleasure.  Most people who mediate before hiring attorneys find it most convenient to have us work with you to draft all of the legal paperwork necessary to process a divorce.  When people retain their own attorneys, they usually have the attorneys handle the paperwork.  We are happy to help you either way.
My spouse and I just fight and can't seem to talk at all. How is Mediation going to work?
It is pretty normal for people going through a divorce or other legal proceeding to have a hard time discussing the legal issues together, and it can be emotionally difficult to even be in the same room sometimes.  That is exactly what a mediator is for. People are usually on their best behavior in front of a professional who they are paying to help. A good mediator maintains an atmosphere of mutual respect using techniques like Interest-Based Negotiation, Active Listening, and classic Brain-Storming to help you through difficult issues.
Do I have to sit in the same room with my spouse?
No.  Our first rule for mediation is that everyone has to feel safe, emotionally as well as physically.  If you don't feel safe, then you will not have the mind-set to think clearly and to make good decisions.  If either person wants to be in separate rooms then we use a technique called "Caucusing", where the parties stay in separate rooms and the mediator goes back and forth carrying your communications and offers.
Whose side is the Mediator on?
The mediator is a neutral facilitator.  As a neutral party, the mediator doesn't advocate for either person the way an attorney does. As problems are brought to the table, the mediator serves as an advocate for solutions that you are both are willing to agree to.  As a facilitator, the mediator's job is to maintain a balance so that everyone feels safe and can say what they need to say.
Does the Mediator decide for us?
No.  The mediator is not a Judge and cannot "Order" you to do anything, or force you to sign any agreement.  This is your legal issue, and the mediator's role is to facilitate and help – not to decide for you.  Parties to a dispute know their family and circumstances better than anyone else, and with a little help, come up with amazing and creative solutions.  The mediator will also share with you solutions that have helped others in the past and some creative ideas of their own, but in the end, these are all just options for you to choose from and to help you create your own options.
Can I have an Attorney involved?
Sure!  Working with attorneys in mediation is quite normal, even before a lawsuit is filed.  In our experience, the best attorneys are open to negotiating at the earliest stages. You may have an attorney attend mediation with you, or they can be someone you consult with between sessions and ask to review documents. Good attorneys will provide you with realistic expectations and the legal advice you need to make fully informed decisions.  We can refer you to reputable attorneys who believe in mediation and settlement, but will also advise and advocate for your best interests.
Can other professionals be included?
Yes.  While many divorces are legally straight forward, it is also not unusual for people to have complicated situations or needs that would benefit from the advice of other professionals. Financial Planners,  Business Valuators,  Foreclosure Defense or Bankruptcy Attorneys, psychologists and counselors, and vocational evaluators are some examples of other professionals we have worked with  We can add any professionals that we need to our mediation process and their contributions during mediation will be protected by mediation confidentiality.
Is Mediation confidential?
Yes – all mediation communications are confidential except where disclosure is required or permitted by law.  There is also confidentiality while caucusing, so if you do not want the mediator to share with the other person something that is discussed in caucus, let the mediator know what information that is and they will protect that confidence.
How long does Mediation take?
At least three hours are set aside for each mediation session.  This allows enough time to develop the issues, generate solutions, draft, revise and sign an agreement. Some matters may take more than one session to complete, especially if there are a great number of issues or if there is great complexity.